How to Care For Your Hair-on-Hide Furniture
From water spills to UV protection and dusting, here's how to care for your hair-on-hide furniture from Villa & House

Our fully wrapped hair-on-hide collections have quickly skyrocketed to our bestseller list. Because of the supple nature of the natural finish, we're often asked how to properly treat it.
From water and sunscreen spills to UV protection, glass tops, and dusting, we're answering all your questions!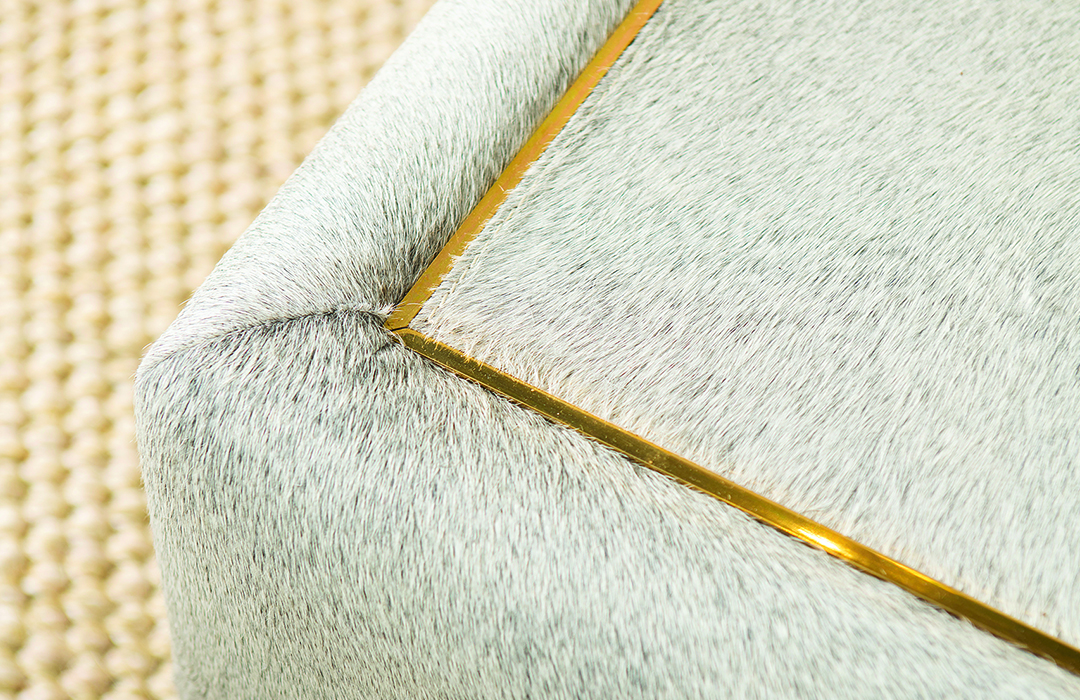 Common spills:
Q: Help! I just spilled a glass of water on my Julius Side Table. What do I do?
A: If you spill liquids like coffee, tea, water, or white wine, don't fret! Soak up the excess liquid with a sponge or paper towel as soon as possible to avoid extra staining; especially for coffee or tea spills as they can lead to permanent staining if they linger on a surface for too long. Use a damp neutral color towel, and if it's not a water spill, add a little mild soap and rub the affected with pressure in any direction. Once the area is clean, blot the affected area with a paper towel to soak up any remaining moisture. Brush hair back into position with your fingers or fine-tooth comb and let it air dry.
Oil Spills:
Q: I use the Asher hair-on-hide desk as my vanity. During my morning skincare routine, some sunscreen dripped on the surface of the desk. Now what?
Gently scrape the excess oil off the surface with a wire brush or butter knife. Place a small amount of eucalyptus oil directly on the stain and lightly rub it in with a clean, dry, neutral color cloth and let air dry.
It's common to have product spills if you're using the desk as a vanity. We suggest purchasing our Asher Desk glass top to avoid further stains!
Levels of Protection:
Q: I have the Andre Side Table in my guest bedroom but my visitors are oftentimes afraid to place belongings atop the soft surface out of fear that they'll "ruin" it. Do you offer precut glass tops for this piece or do I have to source a custom made top from another company?
We offer glass tops sized to fit the Andre Cabinet, Andre 3-Drawer & 4-Drawer Cabinet, Andre Desk, Asher Desk, Harve Coffee Tables, and Julius Side Tables. This provides an extra layer of protection from dust and potential stains or spills.
Because our hair-on-hide finish is natural, we suggest placing the piece out of direct sunlight in order to prevent fading or UV damage.
Dust:
Q: The Andre 3-Drawer & 4-Door Cabinet is such a stylish media cabinet. Because it's in my living room, which is a high-traffic area of my home, I need to dust it but I'm not sure how to do this. What do you suggest?
A: Dusting your hair-on-hide pieces is more simple than you might expect. Take a neutral color towel and brush it along the grain of the piece and comb hairs back into place with your fingers or fine-tooth comb.
If an extra level of clean is needed, use a vacuum with an upholstery-safe attachment on a gentle setting. Be mindful that aggressive and frequent vacuuming can lead to bald spots.