4 Best Ways to Clean Leather Furniture
Villa & House's leather cleaning guide has got you covered.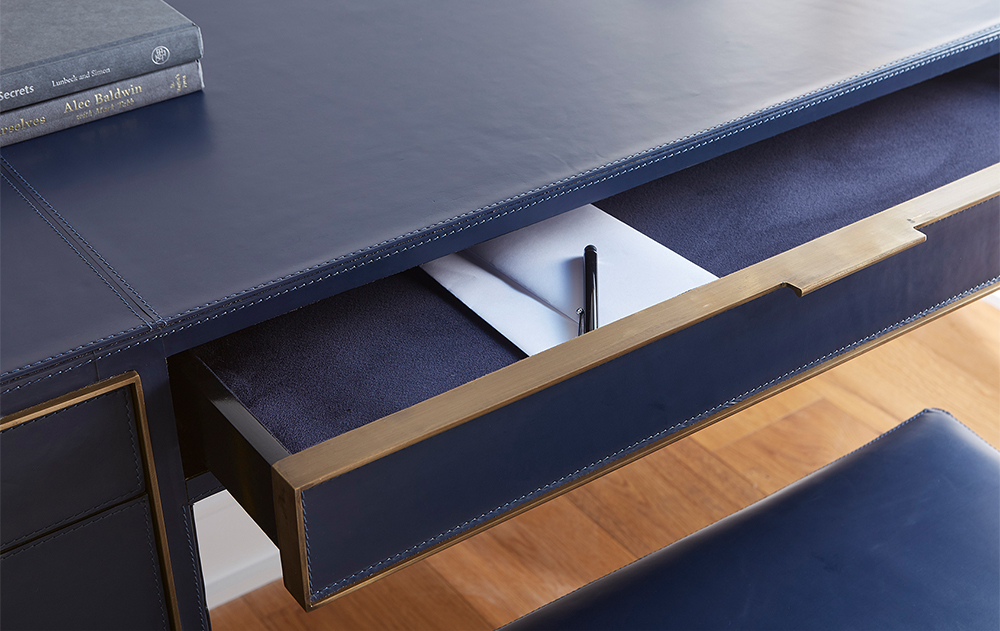 What Is the Best Way to Clean Leather?
Leather is a wonderful material for furniture: It adds an air of refinement, luxury, and glamour to any item. Wrapping a piece of furniture in leather elevates the piece and demonstrates the care and attention that our designers paid in thinking through the look and feel of each surface.
Fortunately, despite its refinement, leather is extremely durable and easy to clean. Regular maintenance will keep your leather goods looking glamorous well into the future.
"Leather is organic, with a lot of tiny variations that give it character—I call them 'Mother Nature's hallmark,'" says Luca Rensi, the Head of Design Direction at Villa & House. He adds, "It's also supple, feels great to the touch, and comes in myriad of colors, so we designers have a whole palette to play with." Rensi's sentiments prove that leather furniture gives you one more design element to layer materials, making a room really stand out.
Villa & House's leather is chrome tanned, giving it a water-repellent finish. This adds to the natural durability of the material and makes the furniture appropriate for a wide variety of scenarios, whether in a busy living room or frequented entryway.
1. Frequent Light Cleaning and Dusting Will Keep Your Leather Fresh
To keep your leather looking great, simply clean the leather with a clean, dry cloth every week or so. For dusty environments, we recommend using a vacuum to remove excess dust.
2. How to Clean Soiled Leather
If leather is lightly soiled, it can be cleaned using any mild soap and lukewarm water applied with a soft damp cloth. Mix the two ingredients to combine and lightly dab the material with a sponge. Be careful not to soak the leather or scrub it. For best results, do not spot clean leather; instead, clean the entire surface in a smooth, even manner. Let the leather air dry. For the protection of your furniture, never use a hairdryer or other heat source to dry leather.
3. How to Clean Stubborn Spots and Stains on Leather
For stubborn spots and stains, apply a mild, nonabrasive soap solution with a clean, wet sponge. Rinse the surface, wipe it down with a damp cloth, and let it air dry.
4. How to Clean Oily Stains from Leather
If an oil stain develops on your leather furniture, wipe the material with a clean, dry cloth and let the remainder of the oil dissipate into the leather. Let this process for an hour or two. The natural properties of the organic material may absorb the stain. Do not apply water or try to wash a grease spot.
Next, avoid using saddle soap, cleaning solvents, oils, furniture polishes, varnishes, abrasive cleaners, detergents, or ammonia on leather; they will ruin the finish, causing it to become sticky and cracked. If the stain remains after delicately wiping and allowing the liquid to dissipate, it might be time to contact a professional cleaner.
An Elevated Look, Now and Into the Future
With these simple steps and relatively little time for routine maintenance, your leather goods will maintain their refinement and elevated presence now and into the future. We hope that you enjoy using your leather pieces as much as we have enjoyed making them for you.